EN: Have you ever heard of a U.K. T.V. show called Styled to Rock? No? I'll explain then, you know that other T.V. show with Heidi Klum Project Runway right? So Styled to Rock is something similar BUT is not to do normal clothes, the point is to do clothes for perfomers in this case singers, clothes for Live shows! So every episode they will have different artist as their clients from Kanye West, Pixie Lott, Cheryl Cole, Katy Perry etc... and the winner gets to dress Rihanna for a Live performance she did last Summer already. I really enjoyed this T.V. show and I watched all on Youtube, so in case you want to see it I decided to do this post and share with you the links for the videos. :)
PT: Já ouviram falar de um programa chamado Styled to Rock? Não? Então passo a explicar, vocês conhecem aquele outro programa com a Heidi Klum Project Runway certo? Então o Styled to Rock é semelhante mas em vez de fazerem roupa normal eles fazem roupa para espectáculos, cantores, para os concertos ao vivo! Todos os dias eles tem um novo artista como cliente desde Kanye West, Pixie Lott, Cheryl Cole, Katy Perry etc... e quem ganhar a Rihanna vestirá a roupa dele/a num concerto que já aconteceu neste Verão. Eu gostei deste programa, eu vi todos os episódios no Youtube, por isso caso queiram também ver eu decidi fazer este post e partilhar convosco os links para todos os videos. :)
The Judges Lysa Cooper, Henry Holland and Nicola Roberts (from Girls Aloud).
Episode 1
Episode 10 - Unfortunately the quality of this video is horrible but I can't find a better one.
The Contestants
The Winner Designer Zainab.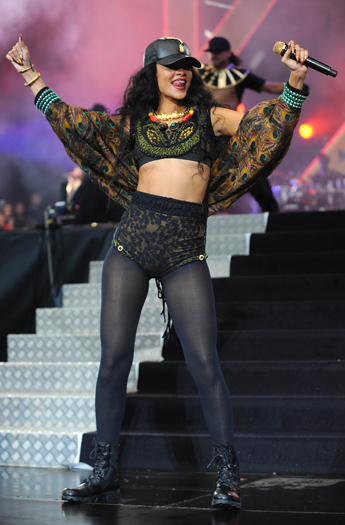 Rihanna wearing the outfit on a concert at Hyde Park in London.
EN: So are you happy with the Winner? Do you like the clothe that Rihanna wore for the concert? Who do you think it should have won?
PT: E então concordam com a Vencedora? Gostaram da roupa que a Rihanna uso para o concerto? Quem é que vocês acham que devia ter ganho?
I do not own the Copyrights of these pictures. There were found at Google.